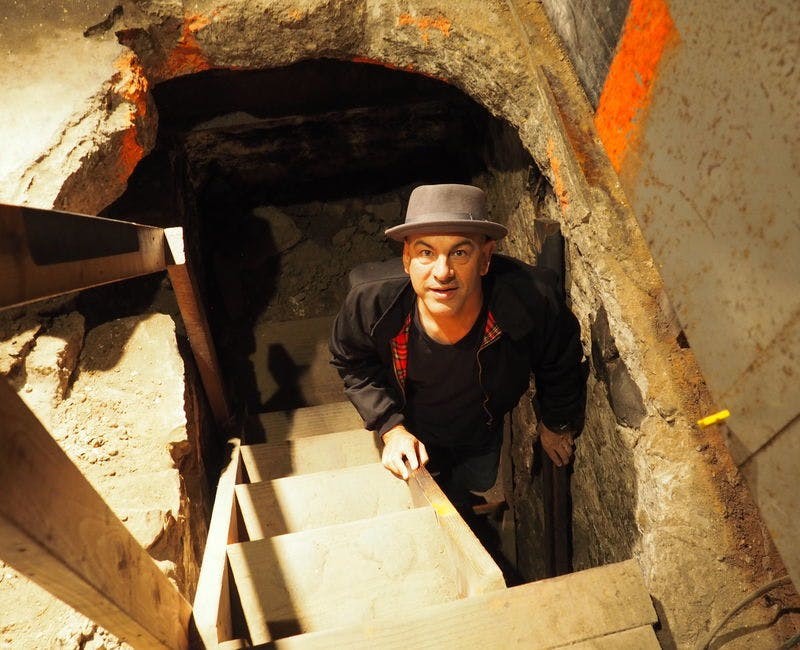 In August 2018, the Food Network's Simon Majumdar visited Cincinnati and explored our city's history by sampling its dynamic dining scene. Read his report on Prohibition, immigration, and gourmet hot dogs:
"These caverns were constructed over a hundred years ago."
Craig Maness of American Legacy Tours leads us carefully as we clamber down a steep set of rather uncertain stairs into the bowels of a restored building in Cincinnati's "Over the Rhine" district.
"But, no one knew they were here until they recently found the blueprints to the original building." Below, we are in the vast, damp but beautifully constructed vaults that were once the cool storage facilities for lager beer produced by the John Kauffman Brewing Company. Lager beer takes its name from the German word Largern, which means "to store," and was kept down in these depths as its slow yielding yeast worked its magic to produce the beer that made this city the brewing capital of the United States of America.
It was a reminder of what a vibrant city this had been since its inception, and how much had been lost because of the impacts of Prohibition, which began in 1920, and to all intents and purposes stopped the city in its tracks.
As we stepped back into the sunlight, it also seemed like an appropriate metaphor for my visit to this city of nearly 300,000 people. A city that, like its brewing industry, has gone through some hard times but is beginning to emerge from underground to prove itself to be one of the most interesting dining scenes I have visited in quite a while. And, certainly one that needs more attention than often being relegated to a singular unique food experience: the "Skyline Chili place."
I have long believed that the most fascinating dining in the United States is not in the larger cities like New York, Chicago or my own hometown of Los Angeles. More, they are in the smaller cities where chefs, quite frankly, have to work harder to gain recognition, and where the cities are small enough that communities can form. Indeed, the impact of immigration, both old and new, can be seen and tasted in almost every meal.
Cincinnati is just such a town. From its earliest founding in the 1780s, the majority of immigrants arriving in the city were from England and Scotland. By the 1830s, nearly 5% of the population came from Germany. Their imprint is across the city. They brought with them their food and, of course, their love of beer. They populated a less well-to-do area of the city across the Miami and Erie Canal, which was given the name "Over the Rhine." It's an area that once housed dozens of taverns and breweries but became somewhat desolate in the years that followed Prohibition.
That lasted up until 2010, when chef Dan Wright and his wife, Lana, took the chance of opening a small restaurant called, The Senate Pub. The Senate offered an elevated take on hot dogs and, of course, plenty of local beer. Despite their initial concerns about attracting customers to the area, it was an immediate success and proved to be a spark for what is now not only a vibrant area of bars, stores and restaurants, but is also one of the most intact urban historical areas in the United States.
Devouring The Senate's hot dogs, you understand why they remain such a success. They are really terrific. Indeed, they are as good as you will find anywhere in the country. But, what is even more impressive is that even in their desire to create a bright and modern eating establishment, the Wrights had insisted on paying respect to Cincinnati's heritage. The Senate uses a sausage—actually, almost 300lbs of them a week—made especially for them from one of Cincinnati's surviving German butchers: Avril and Bleh Meat Market.
This stalwart butcher has been open since 1894 and is still run by Len Bleh and his four sons, fifth and sixth generation members of the original family. While they are enjoying their current moment in the sun—producing sausages for The Senate and numerous other customers, including a line of construction workers that had formed to buy lunch from their outside grill—the Blehs have not forgotten their past.
As we toured behind the scenes, Len was proud to show off a hefty chopping machine that has seen over one hundred years of service and was still in fine working order. While back in the shop, he pointed with equal pride to the array of fresh and smoked meats and other meat products that have kept customers returning for decades. Most interesting of these, for a visitor like me at least, is Goetta, a slow cooked combination of ground meats with spices and pin head oats.
It was always meant to be a "use up" dish, taking left over ingredients and turning them into something that could be repurposed on subsequent days. When the Cincinnati Goetta is cooked, it is formed into loaf pans and allowed to cool. Then it is sliced the next day and fried in bacon fat, of course, before being served with breakfast eggs and toast. No one would claim Goetta to be a gourmet dish, but when eaten hot from the cast iron skillet, it's hard to beat. The high heat of cooking imparts a crisp and crunchy coating that gives way to a softer inside laced with black pepper spice. It is a unique dish and as indicative of the taste of a city as any dish I have come across in the world.
As if to confirm the city's ability to merge its past and its present, our final meal of the day was at Bauer Farm Kitchen. It's a recent subterranean restaurant opening, which successfully brings chef Jackson Rouse's modern take on German cuisine to downtown Cincinnati. As we sat and worked our way through delicious plates of German cured meats, cheeses, pierogi and schnitzel, I could not help but comment to my hosts that, just as we had started our day below ground in "Over the Rhine" remembering Cincinnati's past, now we were celebrating the city's future below ground at one of its smartest new restaurants.
It seemed a fitting way to end a day's eating in a city that is rapidly emerging from its own time underground, to become one of the most fun culinary destinations I have visited in the United States of America.